Location services refers to location-based technologies like GPS and Bluetooth that allows services to determine your approximate locations.

Forsite uses location services to detect when users are at one of our monitored site. We have battery operated sensors that works alongside a geofence that we set around that site. This allows our app to send prompts to remind users to check in, evacuation alerts and automatically check users out when they leave site.

Users will always have full control of their personal data and location data. Forsite does not share any of our users offsite data with our clients under any circumstance.

Forsite operates with two location functionalities that allow users to be automatically located on-site or allow users to manually check in to sites. The first time Forsite tries to access your location, we will ask for permission. A notification will pop up asking for permission to use your location and the reason for requesting it. You can change your location services at anytime:

How to set your location services:

iOS

Settings > Privacy > Location Services > Forsite

Android

Settings > Location > App Permissions > Forsite

Managing your location settings:
Always

Setting your location permissions to always provides our best safety protection and enables Auto Presence Detection.

What is

Auto Presence Detection

?



Auto Presence Detection

onsite helps make health and safety seamless and easy. With

Auto Presence Detection

turned on, as you arrive onsite you will automatically be detected and will receive a prompt to check-in. Once you leave a site you will also be auto checked out.



To improve compliance some Site Managers require Auto Presence Detection turned on to check into their sites.
If you receive this prompt, this means Auto Presence Detection has been turned on for that site: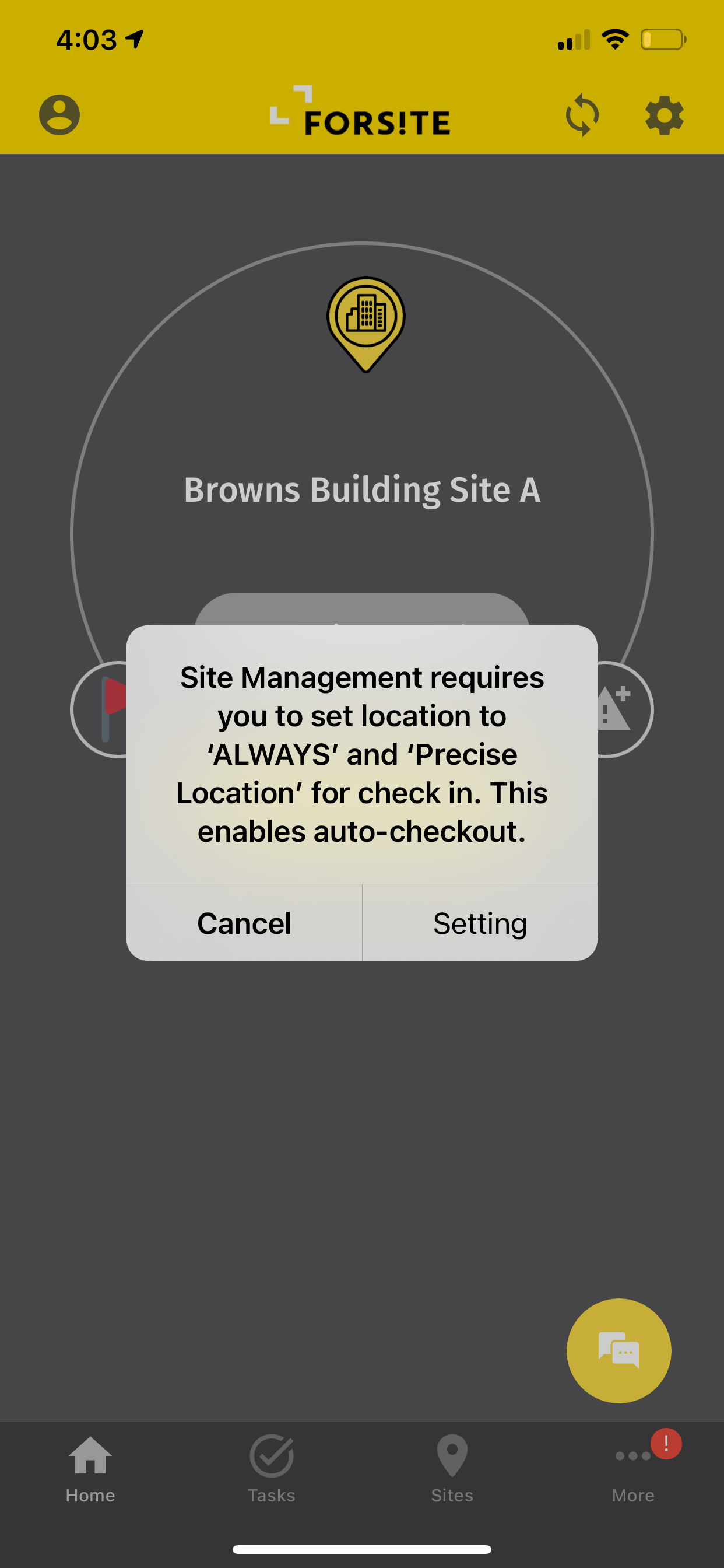 To check into these sites turn your location setting to always.
While using app
User Initiated Presence Detection ensures that users have the flexibility to complete a manual check in at their sites. Contractors will not be automatically detected on site and will not receive prompts to check in. It is important for contractors to check in and out of site when location is set to while using app.

If you are having trouble remembering to check in when on site, you can turn on Auto Presence Detection.